Joined-up Decision Making – What's Your Perspective?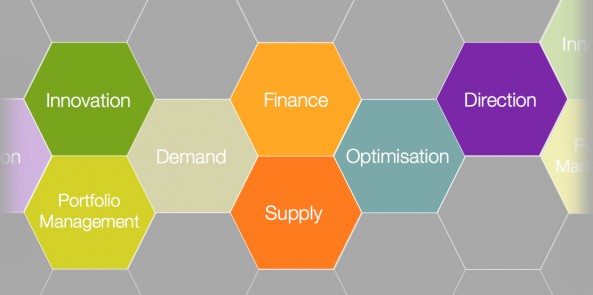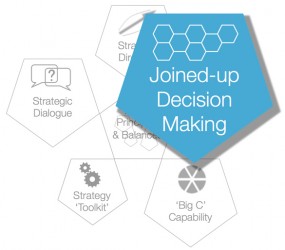 Assuming you have made some big choices and so are clear on your organisation's strategic direction – how are you going to bring your strategy to life on a day-to-day basis?
The Law of Change comes into play here. If things didn't change, the annual budgeting process might be a useful tool with which to manage the business as time passes (instead of just being a spend control and target setting mechanism). But life is complicated and things are constantly changing. Have you ever encountered a budget process without frantic last minute changes, debates about what the latest version of the numbers is, or a budget that was not known to be wrong at the start of the financial year?
So we need a process to manage change – a process that lets us understand what has changed, what the change means (where we are going now) and what we can do about it. To understand what has changed we need to know where we started from – and in the context of business planning that means our original assumptions, including our assumptions on strategic objectives and overarching direction. The process must document assumptions, track where they change, and translate what those changes mean in terms of new business forecasts and future performance.
A fantastic side effect of documenting assumptions and changes to them is that sharing our assumptions about the future between functions, geographies and individuals will inevitably throw up disconnects, misunderstandings and differences of opinion. Providing our time perspective is long enough we have got time to resolve the 'simple' communication failures and argue about and ultimately resolve the 'complicated' differences of opinion.
When we run a good joined-up decision making process, we will very quickly end up with one agreed plan, and improved execution, and if the plan turns out to be wrong, a mechanism to rapidly adjust it.
To ensure we incorporate changes into our planning on a regular basis, the vast majority of joined-up decision-making processes operate on a monthly or 4 weekly cycle (normally with the ability to do a 'quick and dirty' mid-cycle refresh in the event of extraordinary change).
Quarterly cycles mean late identification of risks and lost time in which to respond. In addition, having 12 weeks to complete a planning cycle encourages the 'precisely wrong' detailed planning mentality. The big picture is lost as people model the business at sku by week level, just because they've got time to. Inevitably everything seems to have changed since the last cycle, there is no clarity on assumptions, and re-planning is impossible because millions of numbers would have to be changed.
In addition to the perspective of a long-term time horizon and monthly cycles the process also needs to accommodate different functional, geographic, and individual perspectives and requirements e.g. category and brand; channel and customer; volume and revenue; monthly splits and year-end roll-ups etc.
Aligning different functional perspectives is at the heart of joined-up decision making. Some of the names commonly used for this sort of process reflect this: Sales and Operations Planning; Integrated Business Planning; Marketing, Sales and Operations Planning etc.
Out-dated models for S&OP style processes describe a series of meetings or reviews – commonly one for demand, one for supply etc. This gross over-simplification is at the heart of why many businesses fail in their transitions to joined-up decision making. It's not that easy!
The StrataBridge honeycomb model focuses on joining up the different perspectives on the business. Yes there is a lot of activity going on within the hexagons (including some meetings!), but the key message is about how different functional perspectives must be joined together seamlessly to make one process, not a collection of independent functional reviews.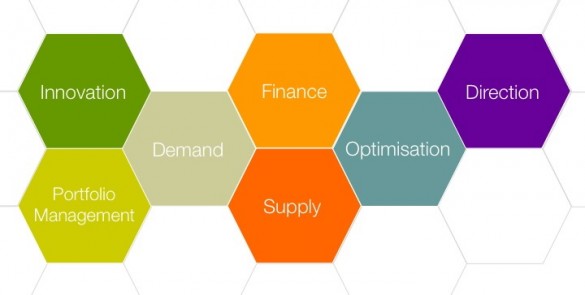 Most organisations have a lot of good stuff going on within the hexagons, what they are lacking is the tight coupling – a combination of free-flowing communication, cross-functional alignment, activities, processes, routines, attitudes and behaviours – that ensures clear decisions, accountability and action to make strategy happen, while operating within the boundaries set through our Strategic Direction.
The StrataBridge approach to these processes also differs from some S&OP/IBP fundamentalists in that we don't believe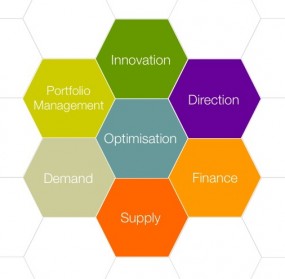 that one size fits all. You don't have to have a 5 meeting process (or 4 or 6 meetings come to that!). We will help you design a calendar of activities, processes, deadlines and decision-taking meetings that is right for your business. If you are a consumer goods business driven by innovation and trade promotions, put these perspectives at the heart of your process. If purchasing decisions (harvests, strategic raw material sourcing etc.) are critical to you – build them in. Hexagons fit beautifully together, have as many or as few as you need. And if you prefer to show a circular process rather than linear – go for it!
Many businesses have however adopted the StrataBridge honeycomb model 'as is' because it usually fits without the need for big process adaptations – providing a rapid route to 'freedom within a framework'. So without forgetting that the joins between the hexagons are critical, and that you should adapt the model to the requirements of your business if necessary: what typically goes on in each process hexagon, perspective or lens on the business?
Innovation
In the Innovation perspective we're focused on bringing 'new stuff' into the business.  From a process integration perspective we're connecting stage and gate style processes into business planning and decision making: stages such as 'build the business case' and 'commercialisation'; gates such as the 'approval to develop' gate, and the 'approval to launch' gate.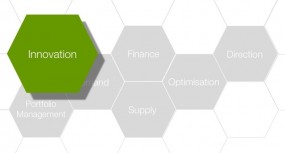 Common issues here are not making real kills at gates (every project gets through), undertaking too many projects for the resource available and focusing on individual projects without seeing the big picture (not managing the 'new stuff' portfolio).
A critical connection between the innovation process hexagon and the rest of the business is how the forecast for growth from innovation is integrated with the forecast for ongoing business. It's difficult enough forecasting for innovative new products when you've created the skus and completed your market research; for products which are still to be invented it's even more complicated: How to align the views of brand people with the channel/customer view? How to ensure that forecasts are regularly updated as the project moves through the innovation funnel? How to manage cannibalization? What to do if your forecasting system only works at sku level? How do you manage the financial overlay?
So even if your innovation and stage and gate processes are well designed in isolation – they are of little value for business decision-making unless they are joined-up with the rest of the business.
Portfolio Management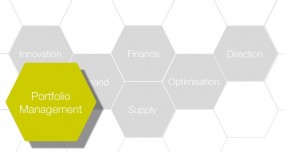 In this perspective the business is looking at its portfolio of products or services in a holistic manner. Often driven by a brand or category team the focus here is on ensuring that brand strategies are developed and translated into commercially feasible plans and that the portfolio of products and services is actively managed. Processes being managed in this perspective would include sku portfolio optimisation (actively managing introductions and delists), promotional strategy optimisation (evaluating the optimum weight, frequency and type of promotion for each brand and sku) and brand performance management.
There should clearly be strong connections to inter-dependent perspectives in particular the Innovation perspective and the Demand perspective, and the fundamental link between these perspectives is the Commercial Activity Plan, the absence of which makes joined-up decision making nearly impossible.
Demand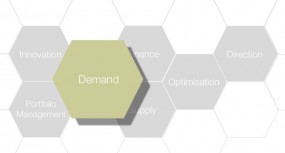 The Demand perspective is about managing an overall plan to execute the brand and commercial strategy, developing tailored plans for channels, customers, shoppers and consumers, and then forecasting demand based on that plan. The Commercial Activity Plan is key here, supported by more detailed plans for individual customers etc. Once planning is complete the key activity within the demand perspective is forecasting. Coming to a consensus demand forecast based on inputs from history, statistics, top-down and bottom-up views from sales and marketing, integrating the innovation perspective, managing assumption changes, eliminating bias, improving accuracy and identifying the range, risks and opportunities!!! Given the scale and difficulty of forecasting its easy to see why many businesses think that S&OP/IBP is all about the forecasting process and neglect the other perspectives which if managed well can dramatically improve the forecasting element of joined-up decision making.
Supply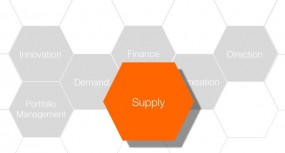 The Supply perspective is about taking the latest demand forecast and ensuring that supply resources are available to support the demand request. Resource planning covers the obvious things like factory and packing capacity, labour requirements and inventory management; and also less obvious things like purchasing of raw materials, packaging materials availability, managing 3rd party manufacturers and inbound and outbound distribution resources.
Decisions are taken within the Supply process hexagon to meet the demand plan by re-allocating supply resource within pre-determined parameters e.g. running overtime, changing shift patterns, building stock in advance etc. When the demand plan cannot be met by 'normal' supply responses, the issue and potential supply options to resolve it must be put forward to the rest of the business in a transparent manner.
Finance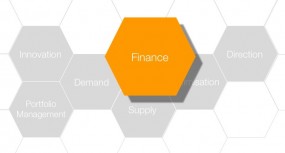 Money is the common denominator in business. Plans, forecasts, gaps, options and results can all be expressed in monetary terms, so finance is integral to every perspective in joined-up decision making.
In too many cases, the financial planning, budgeting and control activities are separate from the other operational decision-making routines.
We like the analogy of a double-helix DNA style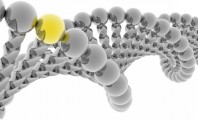 model where a financial perspective is interwoven with the other perspectives throughout the process, while recognising the need to bring the financial considerations and implications together into an integrated financial view of the business.
Assuming the financial perspective is already embedded throughout the process (managing performance and assisting in decision taking), within the dedicated Finance lens are two big tasks: firstly to manage the process of assembling the overall latest business forecast and thereby to establish the size of the gap to target; and secondly to monitor risks to the forecast and opportunities to exceed it.
Optimisation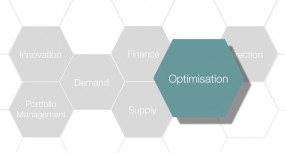 With very strong ties to the Finance perspective, the Optimisation process hexagon works on business issues that have been identified earlier in the cycle but which cannot be resolved by a single function and also identifies issues that can only be seen from a top down perspective. Classically comprising a small group of Board minus one level managers, the optimisation team works throughout the cycle on issue resolution and option development. Options are worked up with support from earlier hexagons, people from the wider business and the financial process hexagon and presentations are prepared for the Direction process. They work on issues they have identified and also those identified by the Board. They have decision-making authority and are responsible for closing the gap. The optimisation team, directs the preparation of a succinct, future orientated management information pack that summaries the forecast business performance and identifies gaps, issues, opportunities and risks.
Direction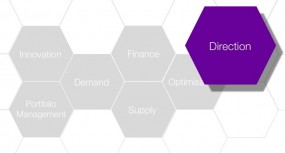 Both the start and the finish of a cycle, the Direction process hexagon contains a decision-taking meeting (working through the options put forward by the optimisation team and making decisions) and feedback to the business on decisions taken/future direction that are the new planning assumptions for the next cycle. It is not a historical performance review.
A good Direction process can be recognised by the lack of debate on 'the numbers and/or the size of the gap' and instead recognised by a focus on solutions (people understand what assumptions have changed and trust the numbers these changes have driven). This focus on taking decisions ensures the entire process is geared to enabling better business plans to be executed and directing organisational energy towards future performance.
Every business has some of this stuff in place. The winning businesses in the future will be those who align the process to their strategic direction, include all perspectives, cope with inevitable internal and external change and combat the Law of Entropy; putting joined-up decision making in place is hard, embedding it in the culture is harder still.